Pierre Gagnaire
CUTTLEFISH & JAUNE DU DOUBS CARROT CHEQUERBOARD
300g yellow carrots
1 egg
1 egg white
2 gelatine leaves
1 300g cuttlefish
A bouquet garni (mint, coriander, tarragon and lemon balm)
Recipe
Add the bouquet garni to the carrots, seal tightly with cling film and steam.
Blend the carrots and pass them through a sieve to create a smooth purée. Add the gelatine (softened in cold water) while the mixture is still hot; leave to cool, then fold in the eggs.
Cut the cuttlefish into thick, even strips.
Spread a piece of cling film across a baking tray.
Lay out the cuttlefish strips, leaving even-sized spaces between them. Use a piping bag to fill the spaces with carrot purée.
Bake for 5 minutes in a hot oven (200°) containing a pot of boiling water. Let cool.
Cut the carrot and cuttlefish mixture into even 5cm slices and stack these on top of each other to form a cube shape.
Cut this cube into slices (crossways, so that each slice contains squares of each colour) and then rotate every second slice half a turn.
By doing so you will see a three-dimensional chequerboard start to take shape!
If perfectly executed, you will have an edible object which is quite remarkable - and what is more, tastes excellent.
THE DRESSING
You can accompany this chequerboard creation with a creamy shore crab bisque, an asparagus fondue, or even fresh almond milk with orgeat syrup.
Add an oriental twist to your salads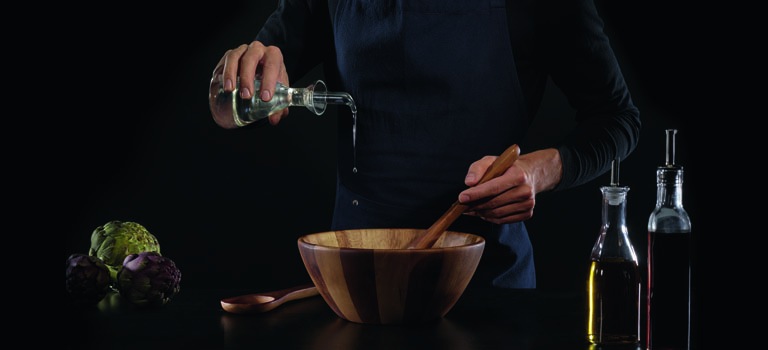 Spring is nearly upon us! Set the perennial olive and nut oils, balsamic vinegar and other classic dressings aside. Now is the time to opt for orange blossom water, which will lift the flavour of your salads and take your taste buds on a journey around the world.

50 shades of pepper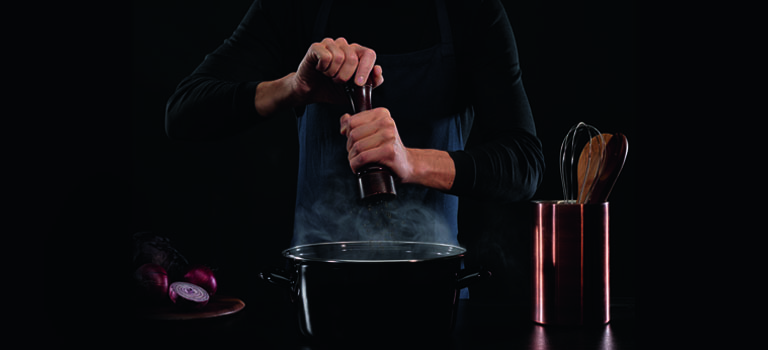 From the Sanskrit pippali, pepper - whether it be woody or fruity, mild or super spicy - goes wonderfully with anything. Try out a strawberry salad with a pepper and basil dressing, or a creamy whipped beetroot and cheese mousse seasoned with pepper.