La Maison De Dietrich
Somewhere in between tradition and modernitybetween power and intelligencebetween rawness and subtletybetween technique and creationbetween heritage and innovation
LIES A PATH TOWARDS A CULINARY ODYSSEY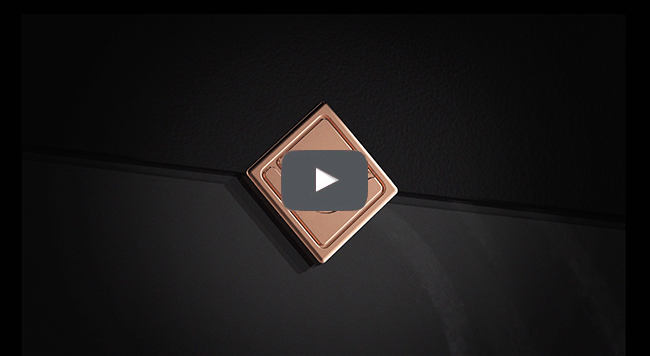 La Maison De Dietrich
La Maison De Dietrich has been built upon a dynasty of visionaries.
It all started in Jaegerthal, a valley to the north of Strasbourg, with a tremendous gamble. In 1684, Johann Dietrich decided to invest in the forging industry. He stamped all his creations with a hunting horn, and in doing so created the first logo in industrial history.
La Maison De Dietrich entered into a new era under the leadership of Jean de Dietrich, the successor who was given a peerage by Louis XV, and subsequently with Amélie de Dietrich, who was the first woman in industry to bring the importance of design and appearance into industrial production. With this strong momentum behind it, the brand has never ceased to develop its approach towards innovation, ground-breaking ideas, and the French art of living.
OUR SAVOIR-FAIRE
Few French manufacturers can boast over 300 years of history as La Maison De Dietrich can. Since its creation at the end of the 17th century, the company has provided a constant stream of creations, innovations and unique technology, such as the first domestic cooker, the pyrolytic oven, and the saturated steam oven. In 1990, De Dietrich invented the first induction hobs.
In 2010 it created Piano, the first zoneless induction hob, and in 2013 it launched the HoriZone Chef induction hob, which counts four different cooking modes among its innovative new features.
Expertise is passed on from generation to generation, allowing us to offer a level of excellence today that is very rarely achieved. Inspired by its heritage, and its inherited knowledge, the new De Dietrich design is just as much a signature look as it is the personification of the French art of living.
OUR MANUFACTURES
De Dietrich fosters its own love of excellence across all its manufactures in France, creating the most wonderful harmonies. For over 300 years, exceptional execution has meant that its virtuosity and capacity for orchestration have set De Dietrich apart. La Maison De Dietrich continues this quest for perfection by way of in-depth understanding, an exceptional level of expertise and meticulous actions. Just as musicians tirelessly repeat their scales, each of our engineers makes a point of ensuring that each model is perfectly in tune with the brand's age-old reputation. From transforming iron to developing connectivity, De Dietrich skilfully plays its part in designing and manufacturing perfectly-finished models.
THE FRENCH ART OF LIVING
De Dietrich provides a physical representation of the Art de vivre, or the French art of living, and is part of French culinary heritage.
Driven by a never-ending quest for perfection and creativity, the brand focuses on elevating raw, high-quality materials and evoking pure emotion. The gamble was successful for this virtuoso, who has managed to combine pure design, innovation, and top-quality material. An unparalleled expertise which immediately awakens desire. Its historical partnership with the Michelin-starred chef Pierre Gagnaire also sums it up perfectly.
"De Dietrich and I share the same wish: to make people excited by cooking. From the most simple actions to the most sophisticated techniques, everyone can let their creativity run wild with this high-performing equipment."

Our innovations
For over 300 years La Maison De Dietrich has produced a constant stream of innovation, combining cutting-edge technology with an elegant appearance to give your kitchen a feeling of exclusivity.
The "Chef" Mode

De Dietrich has integrated an automatic mode of cooking, into its ovens' programming options: the "Chef" Mode. Its allows you to prepare between 9 and 15 of your most frequently-cooked meals automatically. Thanks to a sensor which constantly analyses the dish's humidity level, this exclusive technology adjusts all settings automatically: the cooking mode, the ideal temperature and even the cooking time.

Horizone play

This innovative design enables you to use a single hob for multiple different cooking methods, giving you unprecedented taste sensations. Delivered with a chopping board made with wood from the Sologne region of France, the induction hob can also be customised with a detachable grill or plancha accessory specially designed to fit one of the horiZone zones. Linked cooking devices can be accessed directly through the programming keypad, allowing you the space to get creative and let your talents run free.

Tactillium hob

A state-of-the-art control screen distinguishes the horiZone Chef and horiZone Play Tactilium hobs - key elements of the Iron Grey range - from their counterparts. Its touch-sensitive interface ensures that the various functions are easy to read. All you have to do to enjoy great-tasting food is programme your cooking processes by choosing the cooking mode and available power settings with either a touch of a finger or by using the slider.

Ics automatic hood

De Dietrich has designed a collection of hoods to appeal to lovers of unusual items who are seeking both functional perfection and visual harmony in equal measure. The decorative hood is fitted with sensors and can turn itself on automatically as soon as it detects any steam or heat. The intelligent unit also automatically adapts its extraction rate as necessary, and turns itself off once the last of the vapours have been dispelled.
DE DIETRICH AS SEEN BY…
"I learnt my trade standing over a charcoal stove, and every day for the last 40 years I have put my heart and soul into making creative, delicate, and delicious food. I want food and cooking to evoke emotions - and so does De Dietrich. "
Nos ACTUALITÉS & ÉVÉNEMENTS
Pour tout savoir de nos actualités et événements à venir, Inscrivez vous à la newsletter Emotions